On behalf of the entire St Peter's College community, we extend our deepest sympathies to Eimear's family and friends. Our thoughts and prayers at this sad time are with her husband Eamonn, her children Kevin, Seán, Eamonn J. and Clare, her extended family and friends, and with all those who mourn her passing.
                   In ár groíthe go deo, may Eimear rest in eternal peace.
It is with deepest sorrow that we mourn the passing of our dear Eimear Clare Gilligan this week, a cherished and devoted member of our school community. Eimear joined our school in 2019 as an SNA and although her time in St Peter's was cruelly cut short, she made an indelible impact on the lives of our students and on the many members of staff who loved her. While coming to terms with losing her is immense, we take comfort in the beautiful memories we will always have.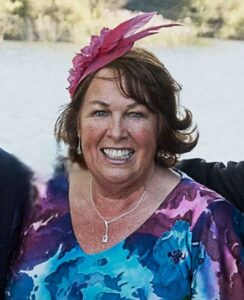 We will remember Eimear for the hundreds of small kindnesses that she showered on us all. We will remember Eimear for her vigilance as an SNA and for the way she always put the students in her care first, checking in with them and helping them get the most out of the school day. We will remember Eimear for her unwavering commitment that enabled so many students in her care to thrive in school. We will remember Eimear for the way she always kept us on our toes, from popping into Ceannaires' offices to remind them of things they needed to say at assemblies to marking sporting successes. Her love of sport and the importance of it fuelled us all. We will remember Eimear for her immense capabilities, if Eimear said she'd do something for you, it would be done to the nth degree. We will remember Eimear for her marvellous ability to reassure you when she saw you with a furrowed brow. We will remember Eimear for her infectious laugh and the sense of devilment she brought to so many school events. Her love of sandals to match every outfit, whatever the weather, brought a smile to everyone she crossed paths with on our crowded corridors.
In a busy school, the energy she exuded enveloped us all. Eimear was quite simply a force of nature, a formidable lady who was utterly unforgettable. She gave us the very best of her. She was the very best of us.